The #MuaythaiConnects2.0 Social and Active Challenge has once again brought the IFMA World Muaythai Family closer together. The thousands of videos sent to the campaign and the creativity and thoughtfulness shown from our athletes truly display that our athletes are certainly passionate about muaythai and the Art of the 8 Limbs, but also that they care for one another. It's been over a year since we have seen a physical world championship but our IFMA Family stands strong as One World One Muaythai by connecting with one another, staying fit and healthy together, sharing the practice of the traditions and the art of muaythai through beautiful displays of the Wai Kru and the thoughtful and inspirational messages that help lift everyone's spirits, bring smiles to our face and help combat perhaps one of the most important matters of concern which are among us today, mental health and well-being.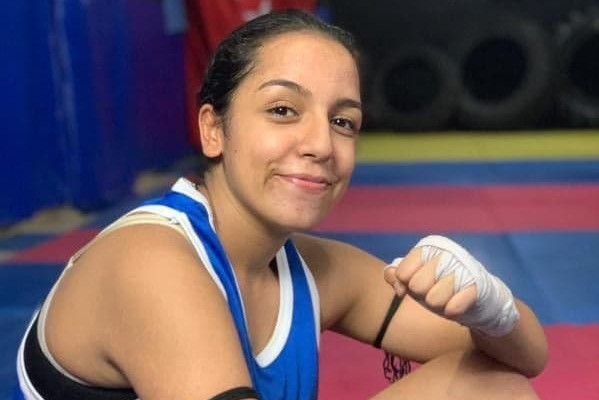 On May 7th we congratulated Beyza Esma Yeşil from Turkey as one of the 5 athletes with the most viewership for the #MuaythaiConnects2.0 Social and Active Challenge. The efforts of her team, family and friends were truly exceptional as her numbers climbed from the hundreds into the thousands within a short period of time with hundreds of comments of support and love for this 16-year-old fighter. 
The efforts of her team behind her, secured her a spot in the final round of the competition. The IOC President's words echo in team Turkey's acts that "We are truly #StrongerTogether" and highlights the whole concept of the #MuaythaiConnects2.0 campaign in keeping the IFMA Family connected, supporting one another despite distance and borders and promoting inspiration and positivity worldwide.
Every athlete has a journey and story and we were lucky enough that Beyza shared her touching story with us. It is truly a story showcasing how the power of Love, Respect and Belief transcends borders within the muaythai culture.
Love
Beyza shared with us that she began her muaythai journey at the young age of 7 upon the request of her brother-in-law who had lung cancer. Beyza's brother-in-law's love and passion for muaythai was passed on to young Beyza who quickly took the flame and explored the sport from her heart and at a young age, found her "Why" for muaythai.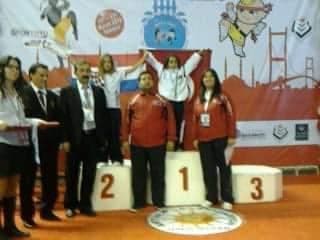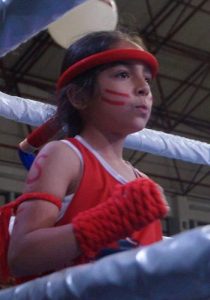 Respect
From the beginning of her muaythai journey, Beyza learned the value of respect by respecting her Brother-in-law's request to learn and practice how to defend herself with muaythai. Beyza also showed the ultimate act of Respect when she won gold medal at the Youth World Championships in Istanbul in 2013 for the Wai Kru Competition at the age of 9. When athletes perform the Wai Kru, they participate in a spiritual act of respect by thanking everyone who has contributed towards their training camp including coach, teammates, any gods that they believe in and of course their parents and family members. Her gold medal in the Wai Kru competition was the ultimate tribute to her brother-in-law in the hopes to make him proud and smile.
"I was enrolled in this sport at the request of my brother-in-law with lung cancer so as not to upset and hurt him. I was happy to learn to defend myself and fulfill my brother-in-law's request. Over time, I improved myself and learned all the intricacies of this sport. I won the Mediterranean, then Turkey and finally the world championship and won the gold medal. The most important thing for me is the morale of my brother-in-law with lung cancer. I want his face to laugh a little."
Belief
Beyza's belief and confidence in herself made her a world champion and her strength, energy and love was felt by her brother-in-law who was also motivated to fight for himself as well. Her belief in herself not only brought happiness to brother-in-law but brought honor and pride to Turkey as she became a world champion and took home gold for her, her brother-in-law and her country.
Tumakaya, her brother-in-law, stated, "I suffer and suffer because of my illness. Beyza's achievements provide me with an important motivation to overcome the disease and regress it. I do not have a child, but we see Beyza as our spiritual daughter. Two years ago, Beyza was enrolled in sports school to protect herself and build self-confidence. She had good success in the competitions she participated in. Thank you for making me feel this happiness. When I was struggling with cancer in the hospital, Beyza's coming to me and saying "I will be the world champion for you" provided me a great motivation and increased my determination to fight against cancer." ~Quote taken from: haberler.com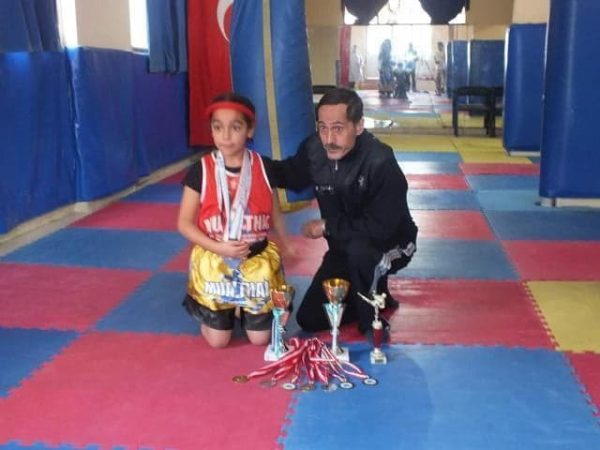 Now, at the age of 16, her Wai Kru continues to bring her family, friends and certainly her brother-in-law watching over her from above, joy, happiness and inspiration.
Thank you Beyza for your leap of faith into muaythai through your brother-in-law's request. Continue to use the power of sport to bring inspiration and smiles to your friends and family's faces through your hard work, passion and achievements. Use the power of Love, Respect and Belief in all aspects of your life to continue to bring success to yourself and those around you.
Beyza stated that muaythai is more than a sport. The cultural aspect of Wai Kru and Mae Muaythai is also spiritual. It shows the long history and how traditions are passed down from the grandparents to the parents and to the next generation. It is like Turkey, with a long history and ancient traditions.
She is also super excited as muaythai is in the European Games and Wai Kru and Mae muaythai is part of the official medal program. With years of practice already under her belt, it is her dream that she will qualify to represent her family, her gym and her country at Europe's biggest sporting event and bring home gold once again.
By: Janice Lyn, Chair of Athletes Commission