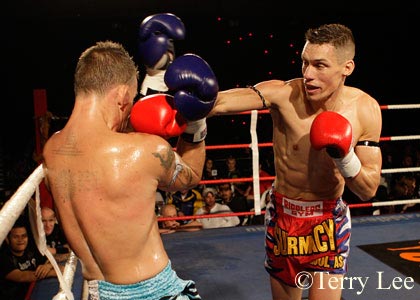 Saturday June 19th was an exciting night of muaythai with a star-studded WMC sanctioned show in Perth showcasing the cream of Australian talent.
Caley Lewis, who won the IFMA Oceania region's Beijing qualifier in May and therefore has the honour of representing Australia in the upcoming SportAccord Combat Games, defended her 57kg WMC Intercontinental Title. Jessica Gladstone from Canada stepped up to challenge Lewis in what was an action-packed fast-paced 5 rounds. Jessica displayed skilful hand combinations and swift leg kicks, but it was the reigning champion Caley Lewis who, with her usual outstanding kicks and tough grappling skills, triumphed over Jessica with a points win.
Two more of muaythai's Beijing athletes – Chris 'Tiger' White and Ali Yakuub from Malaysia faced off in a highly anticipated rematch, both fighters battling it out in the main event after their last meeting resulted in a draw. Despite Chris's impressive Omnoi Stadium win in April, this time it was the Malaysian superstar Ali who beat the Australian 'Tiger' on his home turf, so we can all look forward to seeing both these boys show their skills again at the SportAccord Games in August.
Kim 'Cool As' Olsen demonstrated his show-stopping knees and elbow strikes in another exciting win, this time beating Richie Nola from New Zealand. Kim will also be representing Australia in Beijing and if his recent performances are anything to go by he's definitely one to watch in the 81kg division.
IFMA and WMC would like to congratulate Supremacy on such a great show, and wish the best of luck to these great athletes representing their nation in the SportAccord Combat Games in Beijing on August 27-Sept 5.