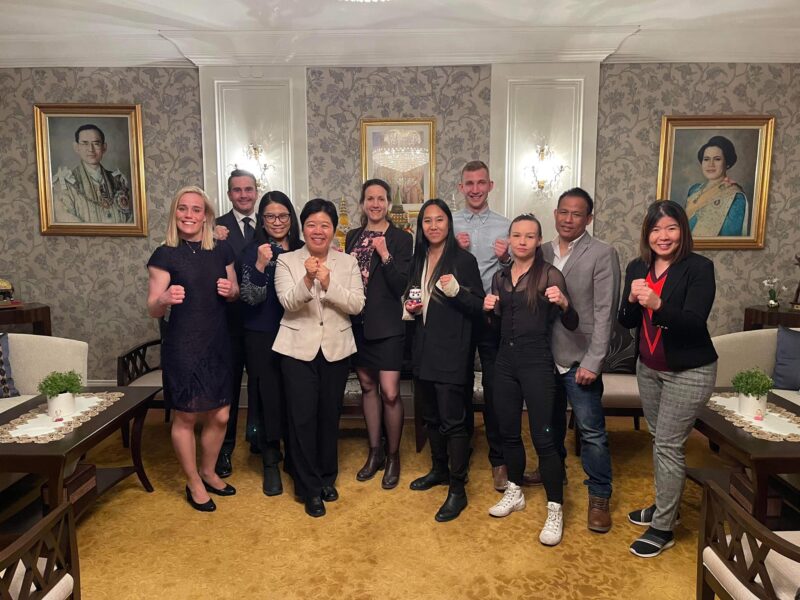 The Swedish Muaythai Federation is one of the founding members of the European Muaythai Federation and one of the long-standing IFMA members who always have stood for inclusion, equality and non-discrimination.

For over 20 years, Swedish muaythai has been one of the leading national federations with champions like Jorgen Kruth who have won multiple IFMA and WMC titles. The late Martin Holm, also a multiple-time IFMA and WMC champion, Rickard Nordstrand both IFMA and WMC champion and these are only three of many male champions but equally and in recent years the female Swedish arsenal has become more dominant.

The Swedish female team are one of the leading in the world going back to Pernilla Johansson, an IFMA and WMC world champion who also became the first female muaythai President, Patricia Axling, Teresa Wintermyr, Sofia Olofsson who is a multiple-time IFMA and WMC champion and also World Games athlete of the year and the list is endless 
Sweden have also organised over the years the largest muaythai gatherings, the legendary Rumble of the Kings which had a record attendance of over 12,000 people and saw the world's best of the best going toe to toe including Thai superstar Buakaw defending his WMC world title 3 times and superstar Yodsaenklai winning the WMC world title
The Swedish Muaythai Federation works on youth development, a unified National Federation and Nicol Kaiser is the second female President known for her outstanding charisma and no doubt will lead Swedish muaythai to even higher grounds.

Her Excellency Ambassador Kanchana Patarachoke invited the Swedish Muaythai Federation under the leadership of Nicole Kaiser to the Royal Thai Embassy for a special reception congratulating the Swedish Muaythai Federation on their outstanding work in enhancing the art and sport of muaythai thanking on behalf of the Royal Thai Government and giving the full support and congratulating the Swedish athletes which have qualified for the upcoming World Games.