The Royal Moroccan Federation of Kickboxing, Muaythai, Savate and similar sports has set a new record with over a thousand participants coming together for a three-day national online training course organised for the benefit of coaches and seconds.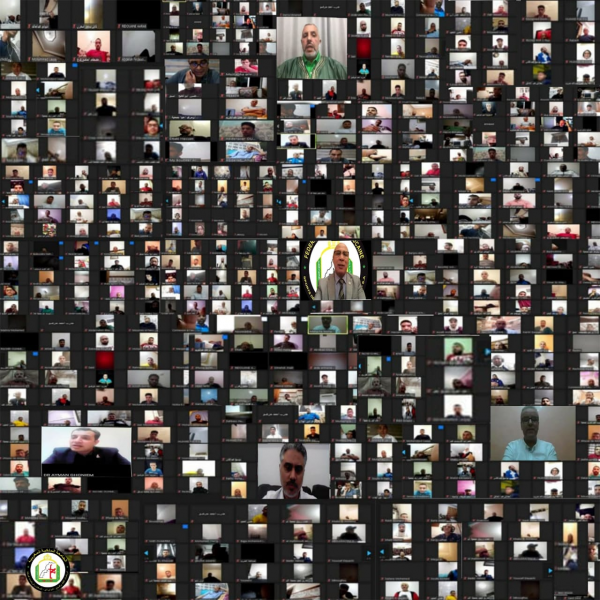 The training course received an overwhelming and unexpected reception by the Moroccan muaythai community of trainers and coaches, due to the continuation of the precautionary measures that are still recommended by the health authorities in Morocco. The huge participation showcases the massive popularity the sport enjoys in Morocco, as well as the dedication and level of commitment the national coaching community has for developing the sport which is no doubt reflected in the high-level quality of competitive athletes the nation continues to produce. Over a thousand coaches, both male and female flocked to the sessions which covered a variety of topics, led by the General Secretary of the federation, Mr. Mostafa El Ghannam, and supported by a team of senior Moroccan officials.
This online training session was also distinguished by the opening speech by the President of the Moroccan Royal Federation Mr. Abdulkarim Elhilali, during which he highlighted the Federation's insistence on moving on the same strategic line based on qualifying all the coaches and seconds of the Federation by the approach of continuous training, despite the challenging times, due to its commitment to precautionary measures to avoid the further spread of the Corona pandemic. The President Mr. Abdulkarim Elhilali did not miss the opportunity to also extend his sincere thanks and gratitude to the Ministry of Culture, Youth and Sports, the Moroccan National Olympic Committee and to all the national media for their encouragement and support for such pioneering online activities organised during this exceptional period, which would contribute to raising the morale of all coaches and athletes, especially after the cessation of many of the live events and activities.
Each daily session was concluded with a lengthy Q&A portion which opened the floor for discussion on the many questions that were posed by coaches and seconds benefiting from this course. This interactivity greatly contributed to enriching the knowledge provided and consolidation of information provided to the attendees, who took to the social media platforms to praise the experience provided to them.