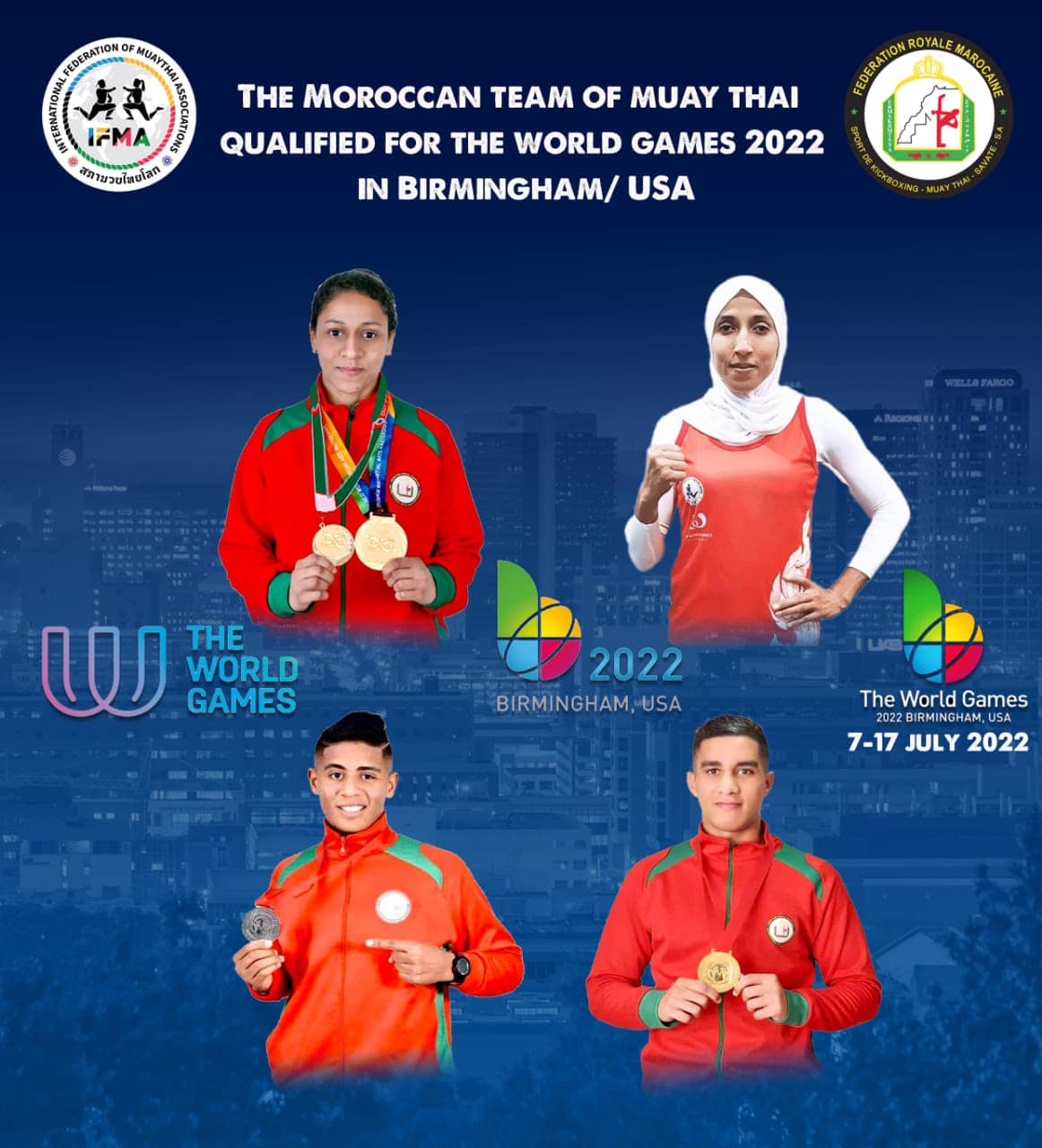 The Moroccan Muaythai Federation, fully recognized by the National Olympic Committee and Sports Ministry recently held an important press conference to announce the national team of Morocco for The World Games 2022.
The President of the Moroccan Muaythai Federation, Mr. Abdelkarim El Hilali, stated that Morocco is proud to have qualified 4 athletes for The World Games with full gender equality; 2 males and 2 females in the Olympic Spirit.

Belouarrat Oumaima, will participate in the Female 48kg division. She won the Martial Arts Gold Medal in South Korea in 2019 in addition to her title at the African Championship in Egypt.
Meriem El Mubarak, will participate in the Female 51kg division. Meriem El Moubarik is an IFMA World Champion and became the first Arabic girl qualifying for the 2017 World Games, making the entire country proud when His Majesty King Mohammed the 7th of Morocco honoured her with a national order of merit. This will be Meriem's second time at The World Games.
Hamza Rachid, will participate in the Male 67kg division. He was the winner of the Moroccan Championships this year and of the Arab Muaythai Championship in Abu Dhabi, United Arab Emirates.
Abdelali Zahidi, will compete in the Male 71kg division. Abdelali is an Arab vice-champion in 2019 in Abu Dhabi and winner of the last African Championships in Egypt, will compete in this world event.
The Moroccan President said that the athletes went through a strict qualifying process. Over 30000 IFMA athletes from around the world participated and as the African champions, they are ready to be part of the 96 qualified athletes.
The President stated that he understood the challenge of this event with the world's best coming together to compete for the 12 gold medals. The hope of the nation, the National Olympic Committee, the Sports Ministry rests upon these 4 outstanding Moroccan athletes. However, regardless of whether these athletes end up on the podium or not, they will represent one of the leading nations for Muaythai at The World Games 2022.