Covid-19 has affected all our lives, with many of us still in lockdown and all major sport events either cancelled or postponed. Throughout the crisis, IFMA has been working closely with all its stakeholders to ensure priority is focused on physical activity, well-being, social development and continuing to connect the IFMA youth around the globe. IFMA has been working hard to adapt, adjust and continue in a positive direction and find a way to stay positive in these uncertain times. The vision and mission of IFMA is clear. To use muaythai with all its ancient traditions and the important pillars of Honour, Tradition, Excellence, Respect and Fair Play; to promote sport without discrimination of any kind, build bridges towards a better tomorrow.
As the world came together in the battle against the pandemic in March 2020, IFMA launched the #MuaythaiConnects campaign initiated to bring the IFMA Youth closer together where no passport or visa is needed to join in and invite one another to one another's homes. Whilst we were all encouraged to practise "Physical Distancing", socially, we had become significantly more connected, with much of the world united in solidarity through social media platforms in the face of the global pandemic. Never had the world of sports united so enthusiastically, collectively inviting the international public into their homes for at-home exercise sessions.

The #MuaythaiConnects campaign was IFMA's initiative to reach out to its stakeholders to come together digitally, to continue to practice sport and stay fit whilst in lockdown.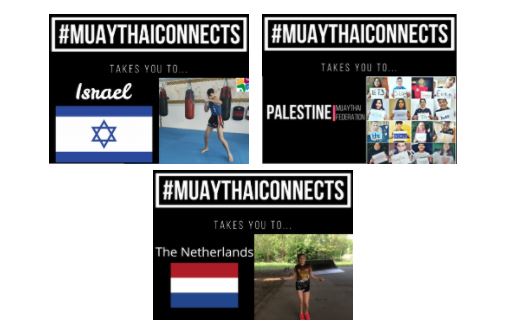 The idea for the IFMA Virtual Championships was born with the goal of bringing the opportunity to compete back during the lockdown era. Not as a temporary solution to the cancellation of sport events, but as a positive opportunity to move forward and bring us all back together. A chance for the IFMA members to compete in virtual fields of play over multiple tournament formats to vie for medals over competitions demonstrating muaythai skill, technique, culture, fitness, strength and stamina. All from participants' homes worldwide. The Virtual Championships consists of 4 Tournaments in which participants may enter:
Launched to the IFMA community in June, national qualification events have started all around the world, with national federations adopting the newly developed virtual competition format, rules and regulations to hold their own national events, all using video conferencing platforms on the world wide web.
Over 100 national federations will participate in the event, with the final held as a live event over 2 days, with virtual ceremonies being broadcast from the on-site actual host arena in Bangkok this October.
IFMA President Dr. Sakchye Tapsuwan stated, 
"If there is one positive we could take from the Covid-19 Pandemic, it is that it has brought our IFMA family closer together. IFMA had to ensure that we offer support to our National Federations, and that the athletes and youths are encouraged to stay active and engaged. That we stand in solidarity to keep everyone positive and motivated."
IFMA Director Charissa Tynan stated,
"Now more than ever, unity and diversity must be championed and not just a slogan. The pandemic knows no borders and has affected all of us. Over the last 4 months, millions of athletes and fans grew closer together through the #MuaythaiConnects activities. We have managed to adapt to all the different situations in which we found ourselves, and as a family, we could not turn away from the problems faced during the pandemic. Everyone supported regardless through the webinars, work out videos, or volunteers in the crisis."
Chair of IFMA Athletes Commission Janice Lyn stated,
"I am touched by al the solidarity shown by the athletes. The virtual championships serve to provide opportunity to all, regardless of whether you are under lockdown or already dealing with post pandemic adjustment, regardless of your social background, one world, one muaythai, and we have truly become stronger together."
Qualified teams will then register to compete at the IFMA World Virtual Championships to be held in October. The first ever youth team made up of IFMA Virtual World Champions from the Muay Fit and Muay HIIT tournaments will then go on to compete, this time not under their nation's flag, but under the IFMA flag, representing the sport of muaythai universally at a subsequent event, soon to be announced!!