IFMA has been a proud WADA signatory since 2007 and has worked diligently over the last 16 years to ensure anti-doping education is widespread amongst all stakeholders (whether they are athletes (Youth, U23, or Elite), entourage, medical staff, officials etc.); implementing various clean sport initiatives with the objective to promote fair play and protect the clean athletes.
WADA emphasizes that all code signatories have quality anti-doping programs with a strong demand that Code and Standards are met and maintained rigorously. One of WADA's primary roles as the global regulatory body for anti-doping in sport is to monitor effective implementation of the  World Anti-Doping Code (Code) and its related International Standards (Standards) by more than 350 Anti-Doping Organizations, including National Anti-Doping Organizations, International Federations and Major Event Organizations.
The World Anti-Doping Code International Standard for Education (ISE) is a mandatory International Standard developed as part of the World Anti-Doping Program. It was developed in consultation with Signatories, public authorities, and other relevant stakeholders. The International Standard for Education was first adopted and approved by the WADA Executive Committee at the Fifth World Conference on Doping in Sport in Katowice November 7, 2019, and is effective as of January 1, 2021.
IFMA, together with the hard-working Medical, Legal, Gender Equality, Technical, and Athletes Commissions have worked diligently over the years to develop and execute IFMA's Anti-Doping Education program to comply with the World Anti-Doping Code International Standard for Education working closely with WADA and the International Testing Agency (ITA) to ensure standards for clean sport education are being met and maintained at the highest level.
WADA has three well-established, complementary compliance monitoring programs which ensure that WADA's overall compliance monitoring program is continuous in nature including its Code Compliance Questionnaire.
The Code Compliance Questionnaire (CCQ) is the program developed by WADA, in collaboration with stakeholders, to measure compliance of Signatories with the mandatory requirements of the Code and International Standards. It asks Signatories to self-report and provide responses and data, to a series of questions related to: ADAMS, Budgeting and Reporting; Testing and Investigations; Results Management; Therapeutic Use Exemptions (TUE); Education; and, Data Privacy. Upon receipt of an IF's CCQs, WADA reviews them to develop Corrective Action Reports (CARs). If any non-conformities are identified the Signatory (IF) must take corrective actions. CARs are designed to assist Signatories in enhancing their anti-doping programs on a priority basis through timelines provided for the implementation of corrective actions. The Signatory's corrective actions are reviewed by the WADA Taskforce before further action is taken. 
The first CCQ was sent to International Federations (IFs) and National Anti-Doping Organizations (NADOs) in early 2017 and IFMA earned full compliance. In 2022, WADA launched its second version of the CCQ to IFs and NADOs with the questionnaire based upon the requirements of the 2021 Code and International Standards. The CCQ for MEOs was also updated based upon the latest Code and International Standards requirements.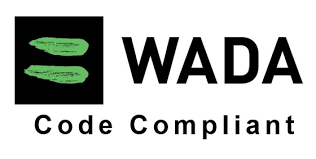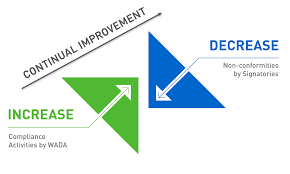 The IF and NADO CCQ comprises approximately 240 questions for NADOs and 210 questions for IFs. Based upon lessons learned from the 2017 CCQ, the 2022 CCQ was issued in a staggered approach to Signatories based upon the Signatory Tier system to enable WADA to conduct reviews and issue CARs within a timely manner. In 2017 some Signatories received their CAR up to a year after sending in their CCQ.
Code compliance by Signatories is governed by the International Standard for Code Compliance by Signatories (ISCCS), which came into force on 1 April 2018 following a stakeholder consultation process. The ISCCS provides the framework for Signatories to achieve and maintain compliance and sets out the processes, timeframes and consequences associated when a nonconformity is identified. 
Recommending a Signatory non-compliant is a last resort, and WADA provides support and guidance from when the non-conformity is first identified through to when the corrective action is addressed. On January 1, 2021, a revised ISCCS came into force with minimal changes made in light of the ongoing CAS case involving RUSADA. Following the publication of the CAS decision, WADA initiated a more thorough review of the ISCCS throughout 2022, including stakeholder consultation. The challenge of dealing with historical non-compliances identified through investigations or other sources was considered to be problematic as the ISCCS is designed to deal with existing non-conformities that can be addressed. The process for updating the ISCCS is ongoing and will involve further stakeholder consultation in 2023.
After completing the 2022 CCQ, IFMA received their Corrective Action Report (CAR) in November of 2022 which provided clear and helpful corrective actions to address the non-conformities identified. IFMA's task force has worked diligently in 2022 and 2023 on the various corrective actions identified by the WADA compliance monitoring unit and as of August 2023, WADA officially signed off on all corrective actions confirming IFMA to be fully Code compliant.
IFMA will continue to work closely with WADA and ITA on implementation and compliance with ongoing changes to the Code and International Standards as the anti-doping landscape continuously evolves, particularly as the Compliance Monitoring Program identifies areas for improvement. With the Standard, Signatories worldwide are held to the same high standards under the Code as is expected of athletes, and IFMA, no doubt will continue to make every effort to uphold the highest standards for clean sport.