An important meeting took place at the Thai parliament between the two recognised national federations governing the sport of muaythai in Thailand, the AMTAT and the PAT. Also present at this landmark meeting was the IOC recognised International Federation, the IFMA.
The meeting was chaired by Parliament Sports Commission Chairman Dr Boonlue Prasertsopa and was organised to seek clarification on the status of the sport at the national level within Thailand caused by some confusion amongst the Thai sports authorities following the unification of the world governing bodies the IFMA and the WMC in early July 2019.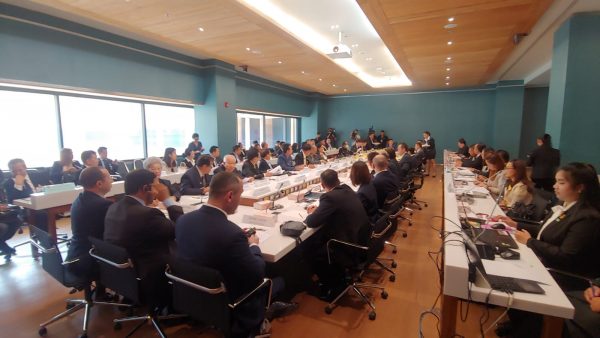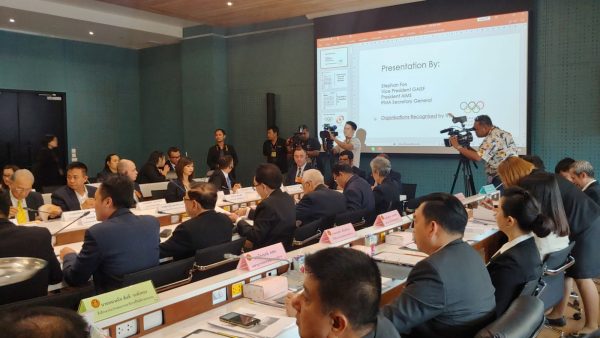 The respective IFMA and PAT Presidents, Doctor Sakchye Tapsuwan and Khun Somchart Charoenwacharawit met together to discuss cooperation with subsequent meetings planned to establish a road map towards creating benefits for the Kingdom of Thailand.
Representing IFMA at the meeting was the Ad-Hoc Management Commission led by IFMA Secretary General Stephan Fox who gave a detailed presentation on the importance of cooperation. He spoke about IFMA's zero tolerance policy toward doping offences, child abuse and child fighting and explained that these were some of the main reasons for the MOU, to ensure that cooperation and strong policies are established and aligned to ensure clean sport, the safety of athletes and the protection of the youth throughout all levels of muaythai. The alliance also enables and ensures a smooth transition for all athletes, with an equal opportunity to participate at the highest level whilst maintaining highest priority on the safety and well-being of all IFMA Members. The unification was witnessed by the IOC, the Sports Authority of Thailand and unanimously voted for by all IFMA members.
The meeting concluded with both parties respecting the jurisdiction of IFMA as the IOC recognised umbrella organisation and a fully compliant WADA signatory. Subsequently, another important MOU was signed at the Sports Authority of Thailand between the two Thai National organisations.
This is indeed a historical step forward for muaythai in Thailand as it finally puts to rest an extended and ongoing dispute for many years between these 2 national organisations. The success of this milestone paved within the motherland is the final important step towards the unification of all Muaythai.