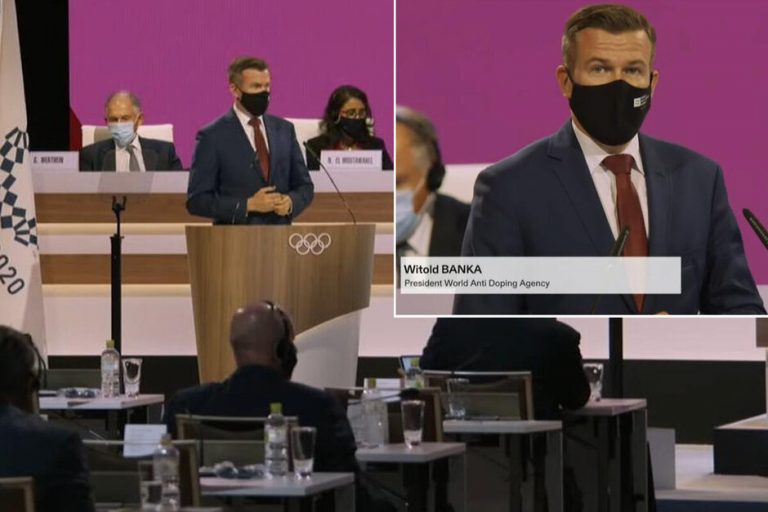 Today, the World Anti-Doping Agency's (WADA's) President, Witold Bańka, delivered a speech to the 138th International Olympic Committee (IOC) Session held in Tokyo in advance of the Olympic Games. Mr. Bańka updated IOC members on WADA activities since the IOC's last session in March 2021, in particular those that were preparatory for the Games, and expressed confidence that, in collaboration with all stakeholders, the Agency would continue to strengthen the global anti-doping system for athletes worldwide.
Addressing IOC members for the first time in person since January 2020, Mr. Bańka's speech focused on how WADA worked with the anti-doping community worldwide to ensure a return to normal testing levels despite the challenges posed by the ongoing COVID-19 pandemic.
WADA's President said: "In recent months, we have been working with our anti-doping partners around the world and have overseen a return to full testing capacity. Our focus has been to ensure that the Games – and all other major sporting events – are protected and that athletes are afforded the level playing field that they so richly deserve."
The latest available figures show that more than 25,000 samples were collected in June 2021 by more than 150 Anti-Doping Organizations (ADOs), which was the highest number of samples collected since March 2020. Despite restrictions still in place in many parts of the world, out-of-competition testing has moved to a level significantly greater than for the same period in 2019.
Mr. Bańka informed IOC members that in the build-up to the Games, WADA had urged all ADOs to make the most of the remaining time to ensure that all athletes bound for Tokyo were properly tested and to implement the testing recommendations that they received from the Pre-Games Expert Group led by the International Testing Agency (ITA) on behalf of the IOC. WADA also reminded them that the IOC-funded pre-Olympic long-term storage program delivered by the ITA was available to them, at no cost, so they could securely put samples away in a long-term storage facility for possible further analysis in the months and years to come. Storage and further analysis of samples have yielded considerable success in previous years and have proven to be an effective deterrent.
WADA's President highlighted the presence in Tokyo of a WADA-coordinated Independent Observer team to monitor the anti-doping activities of the Games, and he stressed the hard work that had gone into ensuring that the WADA-accredited laboratory in Tokyo was ready for the challenges that awaited.
He said: "I am looking forward to the next few weeks as we watch the world's best athletes gather. I hope they will amaze us with their sense of fair play as much as with their athletic prowess. I am sure there will be further challenges to face along the way. But I am confident that, together, we will continue to strengthen the global anti-doping system and, as a result, sport in general."
Among other topics, Mr. Bańka's update included: Russia and the progress of Operation LIMS that relates to the data and doping control samples retrieved by WADA from the former Moscow Laboratory; how WADA's Intelligence & Investigations and Legal Affairs teams collaborated with International Federations to prevent athletes or support personnel against whom there is clear evidence of cheating from Operation LIMS from participating in the Games; advances in anti-doping research, particularly as it relates to dried blood spot analysis and how it will be used at the Tokyo Games; engagement by athletes worldwide with WADA's Anti-Doping Education and Learning (ADEL) programs, 'ADEL for Tokyo Olympics' and 'ADEL for Tokyo Paralympics'; enhanced athlete engagement; and WADA's ongoing governance reforms.
Mr. Bańka's full report to the IOC Session, which was submitted in advance, can be accessed here.
Source: https://www.wada-ama.org/