The IFMA family is all about connections. We may be spread far and wide across the surface of this earth and together we have so much knowledge and wisdom around our beloved sport of Muaythai. The secret to moving forward into the future and supporting our youth as they develop as future humans of IFMA is sharing.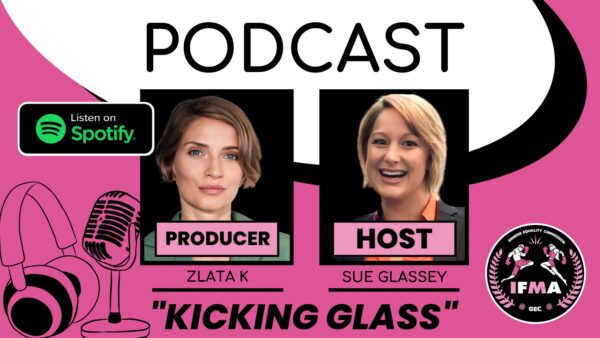 The women have launched a new initiative sharing the experience of fighting female greats with our global audience. A podcast dedicated to the stories of breaking boundaries, achieving greatness and breaking the glass ceiling – #kickingglass. The first three episodes have been very successful. Initially, broadcasted live across our Facebook platforms (IFMA and IFMA GEC) then posted to Instagram and the IFMA youtube channel a few days later. Finally, the audio is cut and uploaded to Spotify and Apple podcasts. Thus far the individuals interviewed include Tierra Brandt of the USA, Iman Barlow of the UK and Yolanda Schmidt from Australia. Currently, they are scheduled fortnightly but as they are growing in popularity (5K views in the first 24 hours) they will move to becoming weekly episodes.
This growing avenue for reaching our stakeholders throughout our own nations and around the globe will help our athletes, young and experienced, increase their knowledge in a plethora of topics. These women have discussed the importance of family and club support, the critical effects of sports psychology of competing and retiring, as well as the importance of injury rehabilitation and the sometimes lonely journey it can become.
I believe that the more we share our triumphs, challenges and golden tips for mental, emotional, and physical well-being in our sport – the more we will develop and the stronger our future will be. As one-muaythai-family the more we support and nurture each other the greater our sport will become.
Try doing a monthly podcast in your own country. Highlight your top achievers, whether they are in the ring or outside of the ring. We are the sum of many parts and if we share our knowledge together our synergy will be unstoppable.
If you want help starting your own podcast, please feel free to reach out to me – Sue Glassey, Chair of IFMA Gender Equality Commission: [email protected]