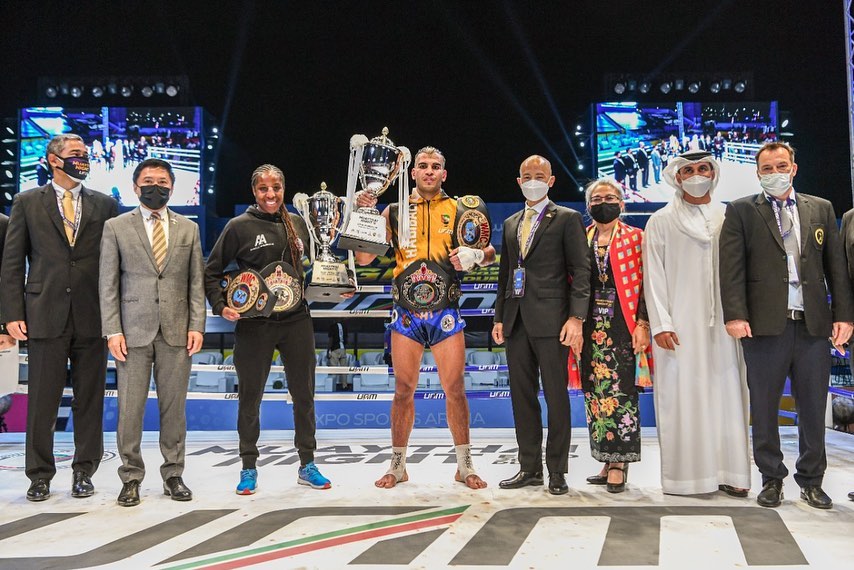 The World Expo in Dubai has been praised as one of the most outstanding World Expos and muaythai was proud to be part of this event.
A special muaythai arena was constructed with the aim of offering a journey to all aspects of the sport and art from the ancient past to a prosperous future. It was the perfect arena where the cultural aspects of muaythai were showcased through the ancient traditions and values, promoting Thailand as the motherland of the sport; but also the universality reflected in the 148 member countries of IFMA. There couldn't be any place better from which to deliver this message than at the World Expo.
Spectators were able to enjoy traditional music performed by the Muaythai ensemble or Pi Muay, played as part of the traditional pre-ritual of each contest; as well as the cultural performance by the national muay boran team both sponsored by the NSDF.
On the competition side, it was certainly the best of the best from all 5 continents promoting peach through sport and cultural understanding in a world which is more fragile than ever.
Four world title fights, one intercontinental title fight, qualifying spots for the world games and so much more all in one gala in which by the end of the night the royal world cup was given to the most outstanding male and female athletes. 
The special arena was filled to the last seat and the VIP section with representatives from the National Olympic and Paralympic committees, representatives from the different Combat Sports, representatives from the Royal Thai and UAE governments and certainly royalty.
At the end of the night, the Royal Cups were presented to the valiant winners, four new world and intercontinental champions crowned. Two athletes' journeys will continue to Birmingham for the 2022 Word Games and 2 athletes qualified for the finals of the Royal World Cup event series in Bangkok.
A special thank you must go to the UAE Muaythai Federation, His Excellency Abdullah Al Neyadi, the National Sports Development of Thailand, the National Identity Foundation, the World Expo 2020 and certainly IFMA and the WMC for this unforgettable night and once in a lifetime experience for the athletes of the world.