Working out of the IFMA office in Switzerland, Zhuldyz Baimagambet is multifaceted and a real asset to the IFMA team. Currently based in Lausanne, Zhuldyz holds the role of Membership Development.
She brings a wealth of experience in the world of spectator sports, showcasing a decade of professional growth. This journey includes a remarkable six-year tenure in key management positions in Media Communications & Operations within Olympic organisations and other spectator sports. Her expertise extends to managing Media Communications & Operations for large-scale events, and she notably served as the Visa Head of the Press Office in Kazakhstan & Central Asia.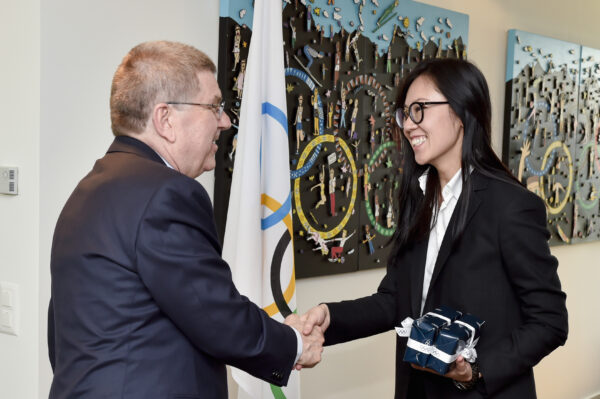 In her current capacity, Zhuldyz plays a pivotal role in overseeing all aspects of membership activities, fostering robust relationships with existing and prospective member associations. She diligently coordinates membership procedures and contributes significantly to the development of IFMA's policies and guidelines. Notably, she also takes on the vital role of Anti-Doping Manager, making substantial contributions to enhancing overall compliance with the World Anti-Doping Code and IF Anti-Doping Program.
Zhuldyz's journey in the realm of spectator sports began in Kazakhstan, where she assumed the position of Communications Director at the 2017 Almaty Winter Universiade Organizing Committee. In this role, she led the development and implementation of PR and communications strategies, with a primary focus on elevating brand awareness within the local audience. Her responsibilities extended to managing media relations and press operations for high-profile international competitions held in Almaty.
Two years later, Zhuldyz embraced a unique opportunity to join an international team of experts involved in the Almaty 2022 Winter Olympics Bid. Here, as a Media Relations Director, she crafted and executed a global media relations strategy for the Almaty 2022 Candidate City. This involved positioning the city as an ideal location for the Winter Olympic Games and undertaking responsibilities like creating speaker programs for bid leaders, cultivating strong relationships with key global media representatives, pitching media stories, and coordinating media preparations for campaign milestones and press outreach.
Although Almaty's bid for the 2022 Winter Olympics did not secure victory, this invaluable experience paved the way for Zhuldyz to join the National Olympic Committee of Kazakhstan. In her role as the International Media Relations Officer, she was entrusted with the development and execution of a comprehensive communication and public relations strategy. Her responsibilities included ensuring consistent messaging for both the internal audience in Kazakhstan and the global Olympic community. Zhuldyz played a crucial part in managing media operations for Team Kazakhstan during various Olympic and Asian Winter Games. She successfully integrated the Kazakhstan NOC into the global Olympic media network, fostering strong relationships with key media outlets and opinion leaders. Furthermore, Zhuldyz exhibited her crisis communications and preparedness expertise by developing a plan to respond to WADA Report findings related to Olympic Games doping cases.
Zhuldyz Baimagambet's extensive experience and leadership in media operations, communications, and sports management have made her a valuable asset in the world of sports, media relations and even more so to IFMA and the world of muaythai. Her diverse roles and achievements are a testament to her unwavering dedication to promoting sports and ensuring effective communication in the Olympic and sports industry.