The historical first Muaythai event held online kicked off yesterday with one of four competitions featuring in the IFMA official Youtube channel. 
Participants in Wai Kru competition were matched with opponents from around the world and the IFMA Referees were evaluating the performance according to time, balance, coordination quality of postures and other criteria in making decision who will advance to the following round.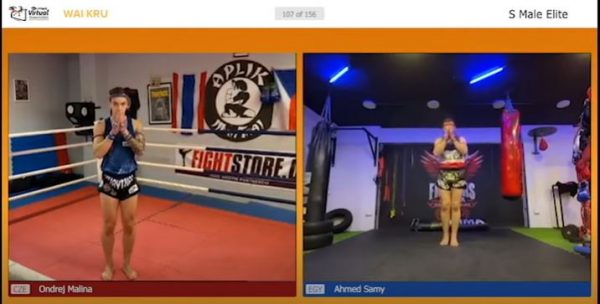 IFMA Director Ms. Charissa Tynan said that all the hard job and coordination between technical partners, referees, and IFMA are now resulting in a fantastic project never seen before.
Participants from more than 80 countries registered for the event and today competitors in Shadow Box, Max Fit and Aero Fit will enter the virtual field of play to compete for the medals and the right to be called the first IFMA Virtual Champion of the World.
Find out more at:
About tournament: https://virtualchampionship2020.muaythai.sport/index.php
Bout results: https://s3.amazonaws.com/rsportz-production/file_assets/attachments/000/020/618/original/IFMA_-_Wai_Kru_Competition_-_All_Brackets_PDF_-_202010231842.pdf
All videos: https://virtualchampionship2020.muaythai.sport/vc-videos.php