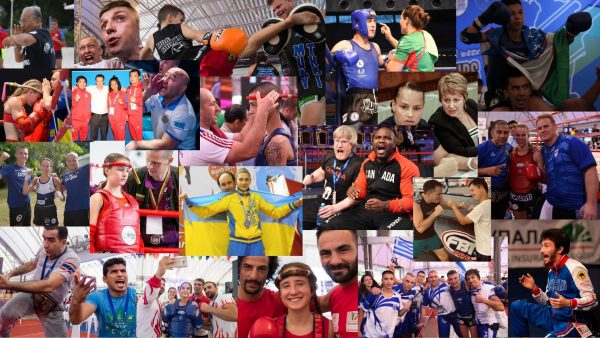 The Special Olympics Coach Webinar Series 2021 presented by Gallagher commenced this past Thursday, September 23rd. In an effort to thank coaches for everything that they do, Special Olympics is running 6 webinars through September and October to provide free coach education and learning opportunities with each webinar accompanied by a workshop with a selection of presenters each week with a mix of special Olympics athletes, coaches, researchers and sports practitioners.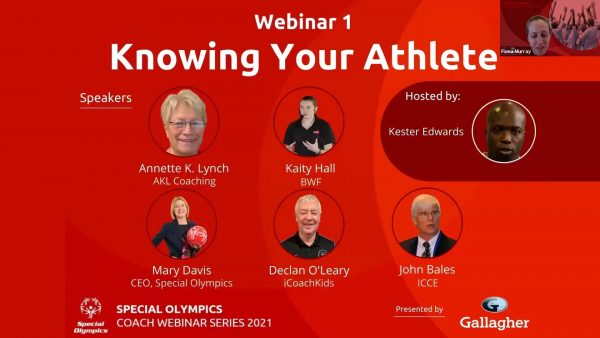 Fiona Murray Director of Coaching and Education for Special Olympics International was the moderator for Webinar 1 which focused on the topic 'Knowing Your Athlete'. The webinar focused on coaches understanding the needs and wants of their athletes to develop a better understanding of them and improve the relationship of athlete and coach. The webinar was opened by Special Olympics CEO Mary Davis who shared a heartfelt welcome message in appreciation of all coaches.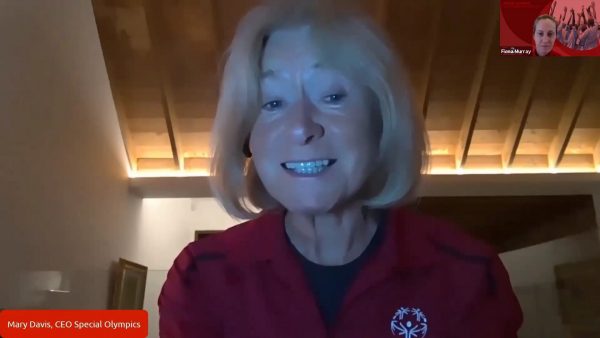 "We understand the huge part you play in all of our athletes and not just the athletes but the lives of the volunteers you work with and with their families. For athletes it's not just the training and the education that you provide but its about the mentorship that you give, the role models that you are and the great great friends to all our athletes. You are the true partners of the athletes of Special Olympics and show all of us how to live in a unified way through the work that you do. You are the original champions of inclusion. Each coach lives the legacy of the founder and great coach herself Eunis Kennedy Shriver."
"This webinar series aligns with the International Council for Coaching Excellence Day. This is a day that celebrates all of our coaches, that recognizes them, that expresses gratitude to them and we want to take the opportunity to use this day to congratulate, to express our gratitude to each and every one of you and to say a big thank you and to celebrate that opportunity through this webinar… Through the webinar series we want to say thank you to all our coaches who give so generously of yourselves and your time but we also want to find an opportunity for you to connect, to share and to learn together not only from one another but some of the greatest experts in the field."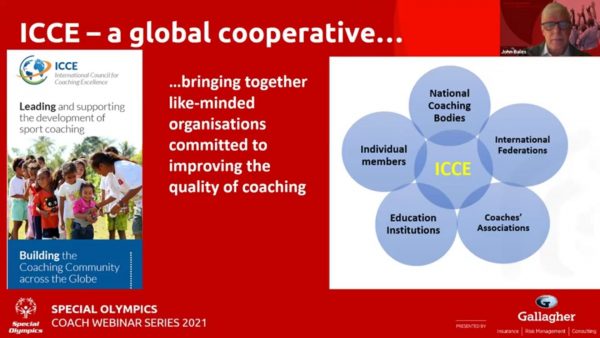 The next speaker was from the International Council for Coaching Excellence (ICCE) President John Bales who introduced the purpose of the ICCE, which is to bring together like-minded organizations committed to improving the quality of coaching. He encouraged participants to take part on International Coaches Day on September 25th from which the ICCE is striving to get this day recognized by the United Nations. Bales encouraged people and athletes from all disciplines around the world to celebrate the contribution of coaches to athletes, communities and their clubs.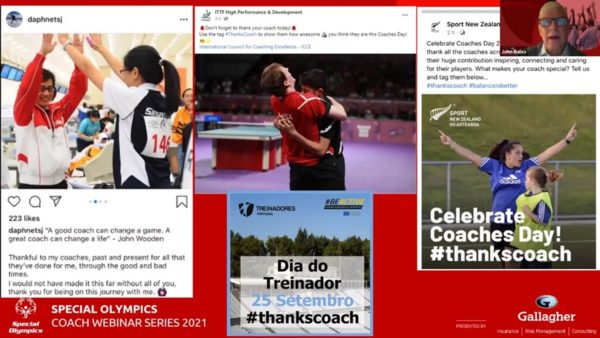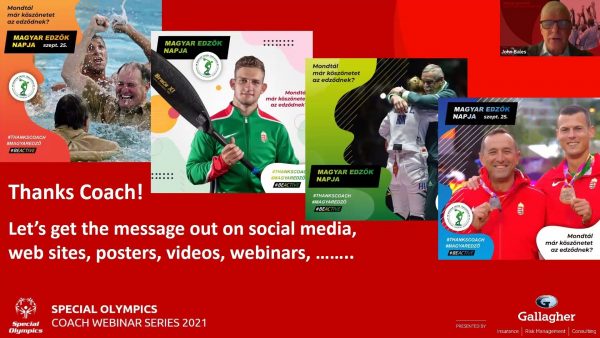 On this International Coaches Day, IFMA echoes the words of President Bales and say: #thankscoach in celebration of our coaches that are role models and mentors, who treat athletes fairly regardless of their talent, deal with success and failure, encourage support for one another and most importantly, show respect to others including the opposing team, officials and others in the system.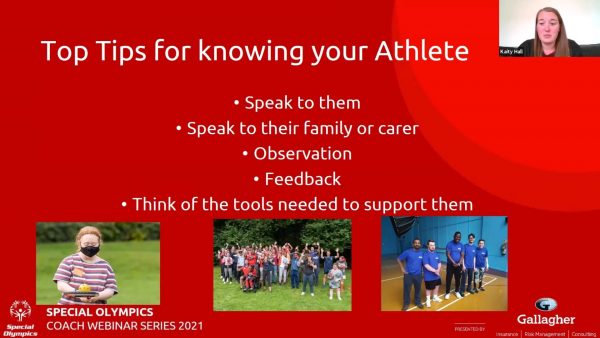 Coach Developer for Badminton World Federation Katie Hall highlighted the importance of creating supportive environments for athletes through knowing the needs of the individual and/or group, providing adequate staff and volunteers and suggested resources to access this extra help and the importance of making training sessions fun to get the best out of the experience.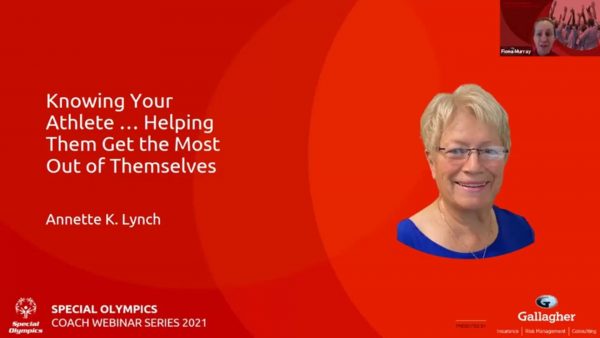 Coaching Hall of Fame award winner Annette Lynch spoke about seeing the Athlete as an "Athlete" and beyond being an individual with intellectual disabilities. She encouraged challenging the athlete to work hard, focusing on their strengths rather than weaknesses and tying their self-esteem to their efforts rather than "Wins or Losses." Lynch also highlighted the importance of establishing a relationship of trust so that the relationship between the coach is more likely to continue through the best and worst situations. She mentioned that trust could be achieved through discipline, routine and stability, placing the athlete in environments that will encourage their success and being able to chart the success to monitor improvement. Lynch also drew participants' attention to the many coaching resources available on the SOI website.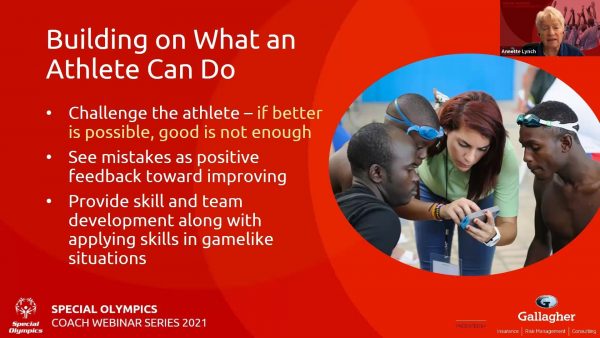 Last but certainly not least, Declan O'Leary from ICOACHKIDS spoke about the organization ICOACHKIDS which started in 2016 as a multi-agency international project co-funded by the European Commission. The purpose of the organization was to ensure all youth sport participants are INSPIRED TO STAY IN SPORT FOR LIFE through championing sport education, policy and practice that puts kids first. Since the start, ICOACHKIDS has attracted the attention of non-EU nations, National and International Sports Federations and global players in health and industry. In 2021 the movement was officially born. Declan introduced their online platform which provides youth coaches the opportunity to share and learn from one another so they can give kids from any background the best coaching, play and sport environment with the motivation to stay in sport longer.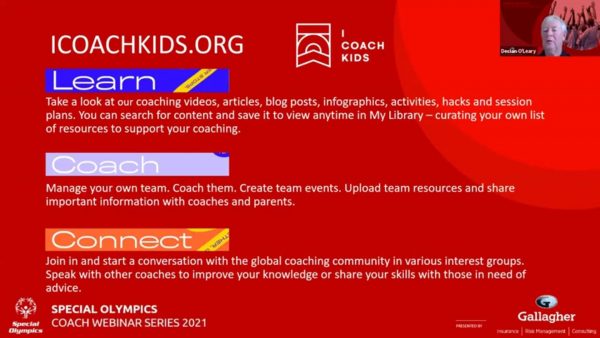 The spirit of connection and working together as coaches really embodied the first webinar of this series. The workshop that accompanies this webinar will be held Tuesday, September 28th lead by Annette Lynch of AKL coaching. We encourage all coaches, even if they do not work with athletes of special abilities to take part and learn from this amazing webinar series.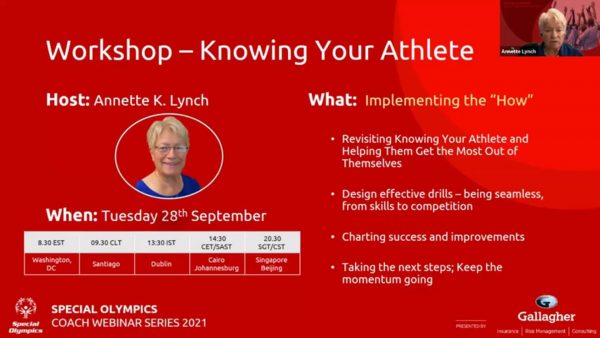 IFMA Secretary General Stephan Fox said, "Each and every coach has no reason not to attend this amazing webinar series celebrating the coaches with so many amazing experts in the field. Happy International Coaches Day to all our amazing coaches who help each and every one of us develop our full potential."