IFMA was once again part of the over 100 international sports federation and organisations participating at the IF Forum. International Sports Federations were praised for setting an inspirational example over the past year, as leaders at the International Federation (IF) Forum 2021 underlined the importance of solidarity across the global sports movement. This year's fully virtual IF Forum was organised under the theme of 'Lessons We Are Learning from a Global Crisis and How Sport and Society Can Emerge Stronger'.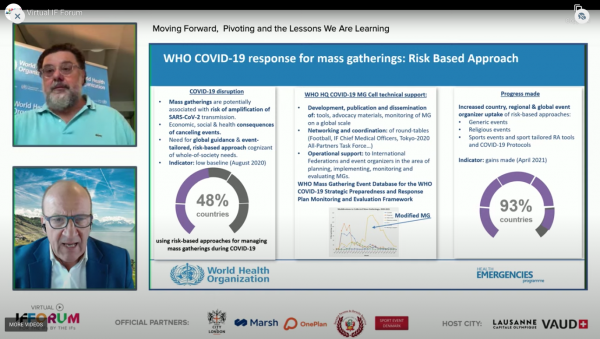 Opening addresses were delivered at the fully virtual event today by the IOC president Doctor Thomas Bach, the 8th UN General Secretary Ban Ki-Moon, the General Director of the World Health Organisation Tedros Adhanom and the President of SportAccord/GAISF Mr Raffaelle Chiulli.
International Olympic Committee (IOC) President Thomas Bach reserved special praise for IFs in a timely update on preparations for the Tokyo 2020 Olympic Games. He thanked sport's global governing bodies for "leading the way" in having "demonstrated that sports competitions can be organised safely", even before the international roll-out of vaccination programmes.
The IOC President said that the top priority remains the organisation of a "safe and secure Olympic Games for everyone – the athletes and all participants, as well as our gracious hosts, the Japanese people". He added: "This is why, together with our Japanese partners and friends, we have put in place comprehensive COVID-19 countermeasures to ensure that the athletes of the world can come together in a safe environment for everyone."
In his Keynote Address, World Health Organization (WHO) Director-General Dr. Tedros Adhanom Ghebreyesus said: "I have been encouraged to see some sporting events and leagues returning in recent months, often with limited spectators and special arrangements for athletes. WHO is committed to working in solidarity with organisers, athletes and fans to address public health risks so that sports can continue safely… Sports bring us closer as a global community, and it is this same spirit of solidarity that will help us overcome the pandemic and build a healthier world for all."
H.E. Ban Ki-moon, the 8th Secretary-General of the United Nations (UN) and the Chair of the IOC Ethics Commission, then highlighted the UN's recent adoption of a resolution for sport to enable sustainable development in his Member Keynote Address.
"This resolution is significant, as it not only recognises the important role of sport; it also serves as an important mechanism towards our post-pandemic recovery," he said. "The United Nations always has and will recognise the important contribution of all members of the Olympic movement to promote peace and development… The sports world has come together stronger than ever before and, together, we will achieve so much more. One of the valuable lessons we can take from this crisis is that the world needs more solidarity, and the world of sport has been a beacon of light to guide us forward."
Dr. Raffaele Chiulli, President of SportAccord and the Global Association of International Sports Federations (GAISF), also stressed the importance of a collaborative approach.
"Many lessons have been learnt in recent months, but we must all continue to learn from both our experiences and each other," Dr. Raffaele Chiulli said. "There are always new ideas, approaches and innovations to consider and implement… As we all look forward to brighter times in the foreseeable future, today's virtual gathering represents an important milestone."
IFMA Director Charissa Tynan shared the fact that IFMA's leading executives from the various commissions were also registered to participate. 
"This was the perfect opportunity to provide our Executive Committee and Commission Members the chance to access and learn from the panel discussions on such relevant topics in terms of where we are and where we are going. It is our intention to best equip them knowledge, ideas and best practices to analyse and implements in the future of the our work for the best possible benefit to our athletes."
IFMA is a proud member of the world recognised sport community, a member of GAISF in which the IFMA Secretary General sits as is Vice President, and President of the AIMS, IOC recognised umbrella organisation for non-Olympic sports.