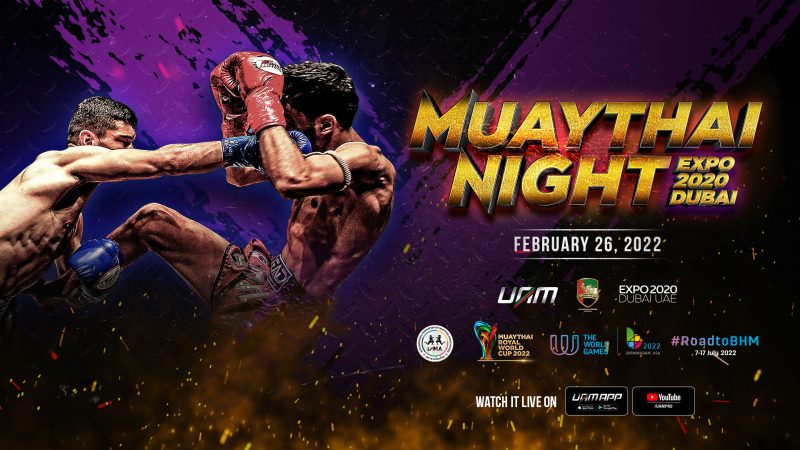 History will be made in Dubai at the World Expo where muaythai is part of the official programme. On Saturday the 26th of February the World Expo will get a special kick when the best of the best from around the world will participate in this joint cooperation between the UAE Muaythai Federation, IFMA and the WMC.
Never before has muaythai been featured at the Expo and this showcases muayhai at its best as a competition sport and cultural art form. The centre of the Expo will be transformed into a muaythai stadium where the best athletes from around the world will come together in the spirit of fair play and respect, fostering cultural and sporting understanding.
Athletes from around the world, the home country of UAE, the motherland Thailand, Russia, the host of the 2022 World Games, the USA, Germany France, Malaysia, Mauritius, Italy and Australia all will come together at this gala night.
The president of the UAE Federation, His Excellency Abdullah Al Neyadi stated that the UAE is proud to become the centre of the muaythai world with the Muaythai Expo and the UAE is looking forward to welcoming the athletes, the dignities and the royals from around the world to the United Arab Emirates.
The ad-hoc chairman of IFMA General Udomdej stated that this is a fantastic opportunity to bring all the countries closer together towards peace and harmony in a friendly contest and the World Expo is the right place for this. He thanked the UAE Federation and the IFMA and the WMC family for putting this important event together.
The GAISF Vice-President and President of United Through Sports, Stephan Fox stated that the World Expo is a place where the world is at one and that muaythai will make history there to showcase our hope towards a better tomorrow.