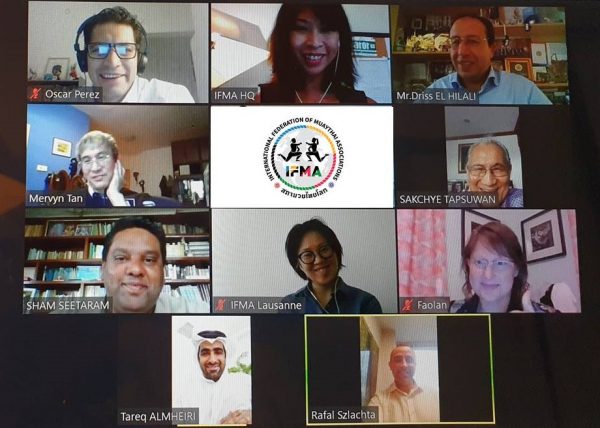 The Covid 19 pandemic has upended all areas in life and the sport of muaythai has certainly been no exception. 
Many of international and national events have been cancelled, gyms closed down, and all aspects of life and activity affected.
IFMA takes care of its own and the leadership have ensured that our staff have not and will not experience any reduction in working hours or salary in response to the current situation.  IFMA has in spite of the pandemic, worked overtime to encourage the IFMA family – athletes, entourage and officials to come together through the use of digital platforms and channels to continue to promote active lifestyles, physical distancing and social engagement. This has been a wonderful example of good practice in sport.
IFMA believes in cultural, educational, and sporting exchange promoting the Olympic values of respect and friendship. IFMA organised many online meetings, webinars and today was another important meeting of the members of the 2020 Ad-Hoc Management Committee which convened to discuss and decide on various matters with the President. After a successful and fruitful discussion, IFMA will soon be sharing many important announcements in the weeks to come.