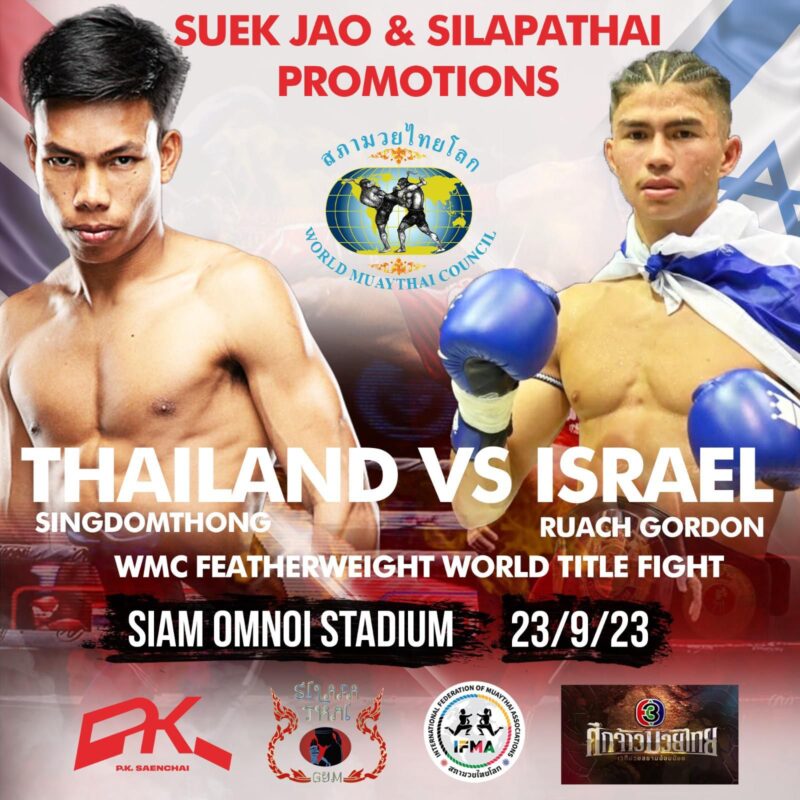 We are proud to present the next WMC world title which will be held in the prestigious Omnoi Stadium in Bangkok on Saturday, September the 23rd. Competing for the title in the featherweight division will be Ruach Gordon from Israel and Singdomthong representing Thailand.
The fight is a collaboration between Suek Jao MuayThai and Silapathai Promotions under the sanctioning of the WMC and IFMA. The fight will also be Ruach's Omnoi title defence following him becoming champion with a round 4 stoppage over Samanchai TDM from Thailand at the end of July, making history as the first Israeli to hold this title and only the sixth foreigner.
Ruach has been tearing through his division in Thailand and is a former IFMA Junior gold medalist and also picked up the gold medal at the 30 years of IFMA World Championships earlier in the year in the 57KG division. After the 57Kg division, Ruach was also awarded the most outstanding athlete at the IFMA World Championships in 2023.
Singdomthong Nokjeanladkrabang offers Ruach his biggest challenge to date as a very active fighter on the Thai scene fighting on the biggest and best promotions. He enters the ring coming off a win against Surachai Sor Sommai after putting on an epic performance.
Ruach Gordon stated that "Dreams do come true you just gotta believe and put in the work no matter what.
The Vice President of IFMA, Mr Somchart Charoenwacharawit who is also the president of PAT stated that athletes like Ruach once again show the importance of grassroots development. It is a great example of building the athletes up through the proper national federations and then competing at continental or world championships within the Olympic family and then fighting on the professional level in the best stadiums in Thailand. This is why the cooperation between the two recognised federations AMTAT and PAT is key for both the health and safety of the athletes, promoting and safeguarding proper muaythai.
Doctor Sakchye Tapsuwan, the president of IFMA stated that the WMC merged with IFMA in 2019 to ensure that the pyramid from bottom to the top is a proper development process to ensure that the athletes from around the world can live their dreams and have the best opportunities to compete at the World Combat Games, World Games, European Games to name a few and also to fight at the top stadiums in Thailand.