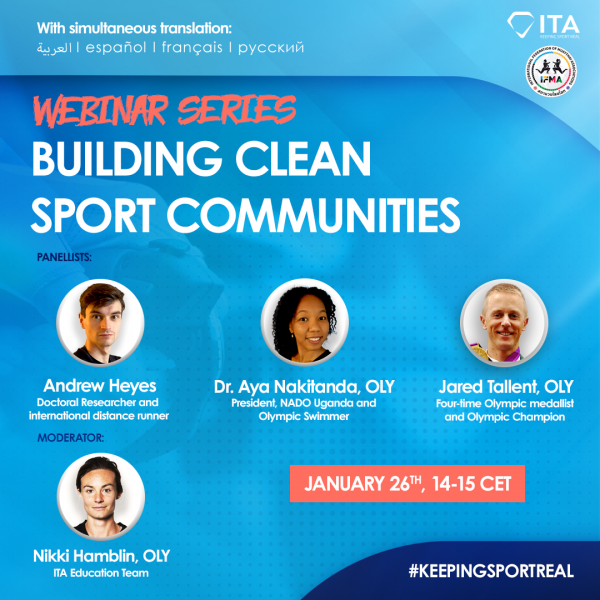 We would like to begin 2022 with a continued joint initiative between ITA and IFMA. We must thank ITA for the incredible webinar series they have been hosting. They are kicking off 2022 with their first Webinar, "Building Clean Sport Communities."
We know that the anti-doping landscape can be complex, and one of the purposes of these sessions is to break down the complexities by presenting topics in an engaging and athlete-friendly manner. With the help of experts and athlete guests, our hosts will deliver anti-doping education informally and in a relaxed setting, offering interaction with participants and welcoming live questions throughout the sessions.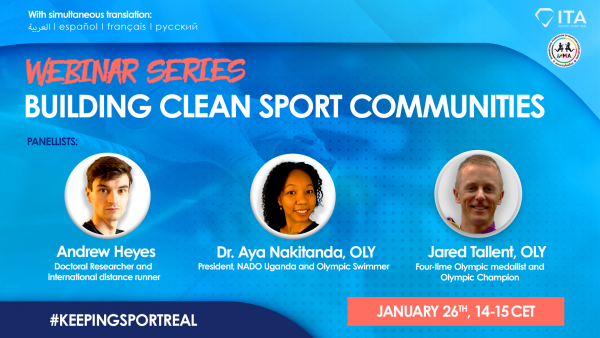 Andrew Heyes, Dr. Aya Nakitanda OLY, and Jared Tallent OLY will discuss the importance of a clean sport community and how, in whatever role we have, we can make a valuable contribution to ensuring our environment is doping free. The guest panellists, who have all demonstrated a strong, unwavering commitment to clean sport, will share examples from their own experiences as athletes who have competed at the very top of their sport. They will discuss what clean sport means to them, why anti-doping is everyone's responsibility – not solely the athlete who can be tested, the important role of culture in doping prevention and offer practical tips on how to build a clean sport community.
Please note that these webinars will be held in English with simultaneous translation to four additional languages – Arabic (العربي), Spanish (español), French (français) and Russian (русский).
Topic: Building Clean Sport Communities
Registration link: https://us06web.zoom.us/webinar/register/WN_e1X2asAqQPiWSfbYBK4yTw
Event date: Wednesday 26 January, 14:00–15:00 CET
Panelists: Andrew Heyes, Doctoral Researcher at the University of Birmingham & International Distance Runner Dr Aya Nakitanda OLY, President, Uganda National Antidoping Organisation
Jared Tallent OLY, Olympic Gold Medallist and record holder 50km racewalk
Moderator: Nikki Hamblin OLY, ITA Education Team
We hope that you will pass on this information to the relevant persons within your organisations and that you will make good use of this important initiative.
We are looking forward to another successful year of cooperation in our united stance towards clean sport.