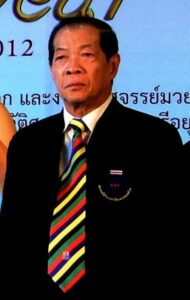 Khun Somchart Charoenwacharawit needs no introduction in the world of muaythai in the Kingdom of Thailand as the President of The Professional Boxing Association of Thailand (PAT). He oversees all professional muaythai activities in the Kingdom. He is also the President of the World Professional Muaythai Federation, which like the World Muaythai Council, has merged with IFMA to ensure that professional and amateur muaythai are united as one muaythai under the IFMA One Standard Muaythai principle.
In Thailand, only two organisations are fully recognized and are allowed to use the word Thailand, the Thai flag and logo, which is the Amateur Muaythai Association of Thailand with President Dr. Sakchye Tapsuwan who is also the acting President of IFMA and The Professional Boxing Association of Thailand with Khun Somchart Charoenwacharawit as the President. No other muaythai organisation is allowed to send athletes abroad to Olympic recognised events and to professional muaythai events. Both organisations signed an MoU four years ago to ensure that all muaythai is united under IFMA, the sole recognised IOC sport and federation.
Khun Somchart and Dr. Sakchye held an important press conference last week, standing together to ensure the protection of muaythai and the traditional aspects. IFMA is honoured to have the two most experienced, recognised and respected muaythai leaders on the IFMA Executive Board.